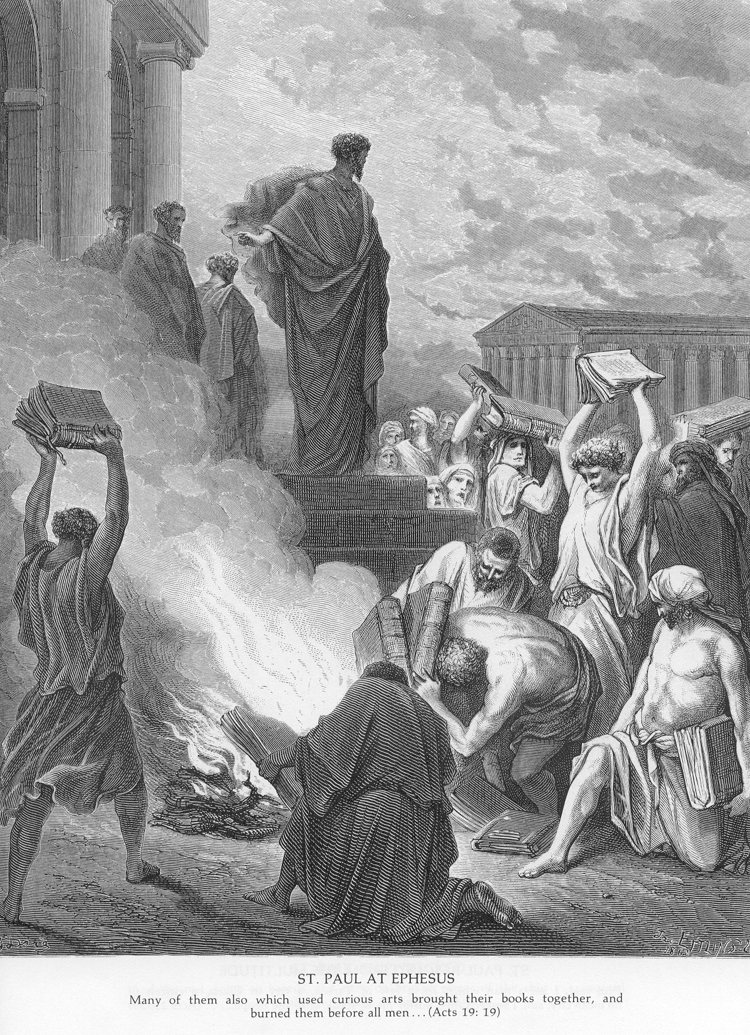 (Photo: Dore Bible Gallery)

So maybe I still have New Year's Resolutions on the brain, but something struck me yesterday as I was reading Acts 19.
Paul is in Ephesus, where magic was big business! These people were used to seeing impressive acts. So when Paul was lead there, in verse 11 we're told that,
"God gave Paul the power to do

unusual

miracles."
Other translations say
extraordinary
or s
pecial
.
The results were extraordinary, too. Verse 20 says:
"So the message of the Lord spread widely and had a powerful effect."
In the verse before, we're told that many who believed were convicted enough to have a bonfire and burn their magic books, which had a value of several million dollars. SEVERAL MILLION DOLLARS! Wow, that's real conviction and devotion! And it reminds me of the few CD's I got rid of in college that I had gotten in the 12 CD's for a penny mail order deal, that really was no deal. That pales in comparison, huh?
Maybe because it's January and a new year. Or maybe because I'm getting older and mediocrity is becoming increasingly disappointing, but in reading this account of Paul, this is what has got me thinking:
God used extraordinary measures (big miracles: immediate healings and lives changed for the better) through Paul to reach the Ephesians. Beth Moore, in her study on Paul, says that God used him because He knew Paul could be trusted to bring attention to God, rather than himself or anyone or anything else. God used the ordinary to do the extraordinary. Paul was ordinary, but he was also trustworthy.
Today, in January, 2009, in my home, my community, I am so ordinary. But am I trustworthy? Does God trust me enough that should he use me, I will bring the attention to God?
My concern is two-fold, you see. Sometimes there are moments where I think I am doing pretty good. I may have a really good parenting moment and completely forget that I've prayed over and over for help in being the best mom for these kiddos. I think I have just willed myself to be "really good" at mommyhood, or I must have read the right book on whatever issue we're dealing with. I know in those moments, I am not being trustworthy to bring the attention or focus back on God.
Other times, when I do give God the credit, or bring the attention back to him, I wonder if He just cringes. I know He's bigger than that, but really...do I ever bring the focus on Him when a moment later or moment before, I do something completely uncharacteristic of someone lead by the Holy Spirit. Something so foolish or selfish or stupid. This happens so often, I'm sure.
So, it appears I have more to work on than brushing Belle's hair or putting the laundry away this year.
But while on that subject, we may have had a break-through, (or God has blessed us) with keeping Belle's hair less tangle-prone. Here's how we've been doing her hair the past few days: