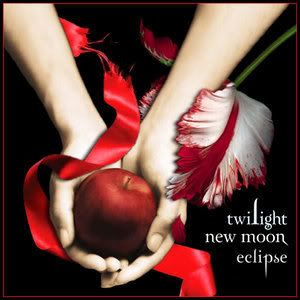 So I bet you all have been thinking I must have turned into the best mom around and have been super busy working with Belle on her schoolwork and playing on the floor with Boo & Baby in between laundry loads and meal preparation...thus too busy to blog consistantly, right? Nope. I got talked into starting the Twilight Saga!
I really didn't plan on reading it. Really. Even after reading like 20 blog recommendations. Really. But I changed my mind. I picked up the first book in paperback thinking it was $8. No big deal. I'd just see what the fuss was about. Yesterday I finished the fourth and final book of the saga.
If you haven't read
Twilight
, here is the basic story line: A seventeen year old girl named Bella moves from Phoenix to small town Forks in rainy Washington state to live with her father. She's basically just an average plain jane girl until she meets a fellow student named Edward. He is beautiful. He is mysterious. And, later she learns he is a one hundred year old vampire stuck in a seventeen year old perfect body.
So now let me pretend to win back some of your respect by writing my review on the series.
Did I love reading these books and getting swept up in the fairy tale? Yes. Would I recommend them for the intended audience: teens and tweens? Uuuuummmm, weeeeelllll, not really.
The vampire thing really isn't my issue with the recommendation. But I'm not particularly sensitive to that...other things may bother me (without giving an spoilers-email me if you've read them and we can chat!), but the whole vampire/werewolf thing was used primarily for story telling, a plot device. But for a 13 year old girl, they may seem very dark.
Amazon reviews call the series "clean romance for young girls." Ummm. Clean but a bit racy at the same time. Is that possible? I could praise these books for raising important questions and issues about personal responsibility, consequences and moral conduct-i.e. Edward believes that just because he was created for evil doesn't mean he has to give into those desires. But bottom line, there were scenes I wouldn't want my early teen daughter reading this.
So why did I sacrifice hours of sleep and house work and meals and blogging to read these books? Although these books are no
Anne of Green Gables, Wuthering Heights or Chronicals of Narnia
(which also had some "unrealistic" characters), they are brilliant-and addictive. Every girl dreams of being loved so fully and passionately and to be protected and thought of in every moment...(are we really that vain?) And it was fun. Devouring 2000 pages about the same characters was fun...to get lost in the world of Forks and Bella and Edward.
But I'm back...back in the world of Belle, Boo and Baby and laundry and dinner and dusting. And that's fun, too.